Hotel Miramar ****
Manager Manfred Galland
Democratic Republic of São Tomé e Principe
Avenida Marginal 12 Julho
São Tomé


Tel.: 00239 - 22 25 11
Fax: 00239 - 22 10 98 7

EMail: hmiramar@cstome.net
Web: www.miramar.st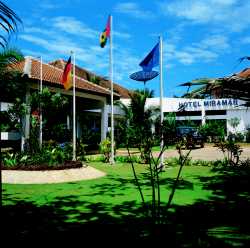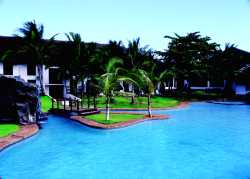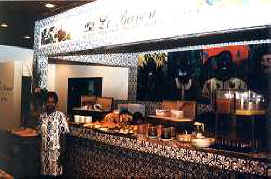 The Hotel Miramar lies within a garden of tropical flowers. The first-class hotel was built in 1985-86 and lies within the diplomatic quarter directly on the beach promenade in the centre of the capital city of São Tomé. The UNO and the Portuguese embassy are adjacent. Since the general renovation work carried out in 1996-97 by American and German investors, it has become the hotel and the best address in the area.

Features include:
Fully air conditioned
10000 square metres tropical garden
600 square metres freshwater swimming pool
54 comfortable rooms and five suites, equipped the most modern technology
7 television channels
direct dialling telefon system in each room
all rooms have balconies and are a short step to the pool
a restaurant with french, portugese and international cuisine
Bar "Chez Graziano"
The hotel's pavement café "Passante" lies directly on the beach promenade
Naturally, the hotel management are happy to assist guests in planning their holiday. Whether you need help:
renting a car
the fashion boutique "La Butik"
the organisation of excursions by water, by land (to all coffee and cocoa plantations, to remote beaches, to the rainforest or to the mountains) or by air (e.g. to the neighbouring islands - reservation necessary).
The hotel also offers
a conference room for up to 200 people plus
a shuttle service to and from the airport (5 minutes)
Internet WIFI
Rooms cost from EURO 112.- for single rooms and EURO 154.- for double rooms. Please enquire about our special conditions for longer stays and the hotel's special offers.